Manifold Assemblies
Manifolds customized for your liquid filling systems
Call 1.866.434.5548 for more information
Why carry excess inventory and use in-house resources when you can order a single P/N ready to install?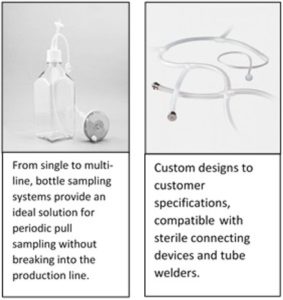 Intellitech's Custom Manifolds, made from bio-pharmaceutical grade C-Flex TPE (thermoplastic elastomer) resin, are designed for the Single-Use market and ensure an unobstructed smooth, consistent, fluid path flow. Combined with our Single-Use Technology Custom Manifolds are easily designed for use with sterile connecting devices to make a complete disposable package.
For tasks that benefit from Single-Use Technology, our easy to configure Custom Manifolds, Tubing Sets and Sampling Manifold (Bottling) Systems are assembled in our ISO Class 7 Clean Room. All production follows controlled manufacturing operating procedures (MOP) and are delivered double bagged, gamma irradiated, with Material Certificate of Compliance, and ready for installation.
Single Use Disposables can:
Eliminate SIP/ CIP/ Autoclave
Reduce risk of cross contamination
Lower facility and change protocol cost
Call 1.866.434.5548 to discuss your needs or e-mail sales@intellitech-inc.com