Custom Single Use Tubing Sets
Assembled. Packaged. Irradiated.
Ready for use
Approved drawing to delivery in < 4 weeks*
Call 1.866.434.5548 to order
Intellitech offers Customized Tubing Sets for Bio Pharma product transfer, sampling, fill/finish or other unique Bio Pharma grade, tubing or hose assembly requirement.
Customers are assured of product that meets requirements using a proven process: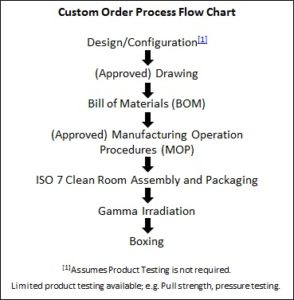 Manifolds, Octopus Assemblies, Pharmaceutical tubing, Bio Pharma transfer sets and other single use systems are assembled in Intellitech's ISO 7 Clean Room.  Resources include a Branson Ultrasonic Welder, vertical Heat Sealer, Tubing Expander and Tubing Cutters for assembly and packaging.
Intellitech is the largest supplier of Oetiker® Med/Pharma, sanitary grade clamps used in high pressure hose assemblies.  Save time and money by reducing components stocked and use of internal resources required for assembly of tubing sets.
In stock Pharmaceutial Grade, Single Use Consumables:
Pharmaceutical grade tubing
Filters
Sterile Connectors
Check Valves
Luer locks and Fittings
Clamps
Seals and Gaskets
Sampling Bottles
Tubing Sets are Lot # controlled, labeled clearly with product identification information, double-barrier protected, gamma irradiated (if required) and shipped with Material Cert's.
Custom Disposable, Single-Use Tubing Set benefits:
Eliminate SIP/ CIP/ Autoclave
Reduce risk of cross contamination
Reduce change protocol time and cost, see Single-Use vs. Stainless Steel info-graphic below
Reduce Inventory cost; Reduce # of components stocked
Reduce Labor cost for assembling tubing sets
*Contingent on customer's approval cycle time and use of in-stock components.
---