i-FILL – Large Volume Filling (10ml – 100ml)
The i-FILL pump is for fill volumes of 10ml to 100ml. The technology is ideally suited for water-like, high-value, sensitive product where product loss is costly and unacceptable. The pump is easily configured and controlled through a color touch-screen digital display. Fill profiles can be programmed to control foamy product or challenging product characteristics and saved as reusable recipes. The pump is not suited for highly viscous product. The pump is operated via the touch screen or foot pedal.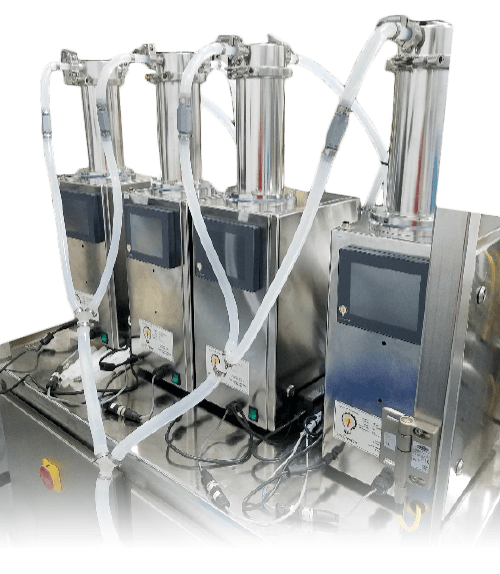 This pump is validated and being used in regulated filling suites around the world.
Validation support templates are available. The i-Fill is proven to deliver repeatable, precision dispensing over thousands of cycles. It outperforms peristaltic pumps with no risk of spallation or having to recalibrate for fill volumes trending out of tolerance. There is no dripping from the nozzle between dispenses.
Innovative solutions that are custom configured to meet your needs.
Contact us today to build a custom liquid filling machine with tighter fill tolerances to suit you.
Other Intellitech Products
Many of our customers are involved in biologic drug/therapy/vaccine R&D and transitioning to GMP production and we, at Intellitech, believe we can best support those efforts by continuing to focus on manufacturing and improving the i-FILL family of precision liquid dispensing pump technology and single-use systems.